13
4
'Con Tact' - Short Film
£255
of £750 goal
Raised by
13
people in 11 months
We're making a film! James A. Coleman and Jayne Slater will be shooting a short film in mid-September, and need your help to make it happen!
'Con Tact' is a dialogue-free romantic-comedy set at a Comic Convention in the UK. The story follows cosplayer Maria who meets and falls for another cosplayer, Stacey. The two hit it off but lose each other in the gathering, and so Maria sets out to find Stacey in the crowd of guests, traders and fellow cosplayers at the Convention.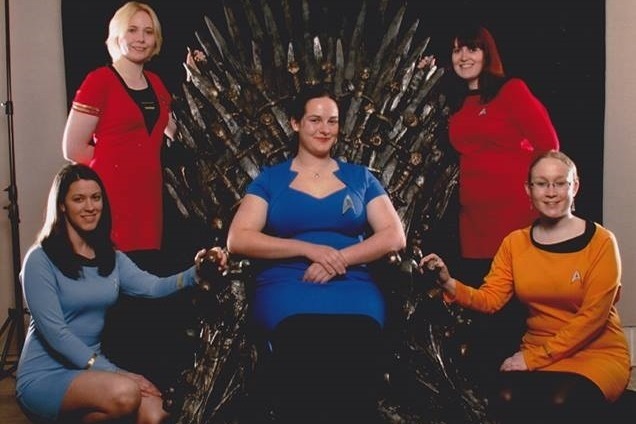 We are therefore looking for donations to help pay for these costs. Anything you can give would be incredibly helpful, and would keep us from having to sell ourselves on the street to cover costs. Which we would do, but would rather not, you know? 
A sweet, funny love story, 'Con Tact' is intended to show off the weird and wonderful world of Conventions, and hopefully gain interest in a longer form project about Convention-going women. Once completed, the short film will be sent to producers, festivals, and then shared online for all to see. 
With the help of some brilliant, talented volunteers we are producing this short film in a very short space of time on an absolute shoe-string budget, but even shoe-strings won't pay for transport, costumes, and a whole host of other expenses involved in the film's production and distribution stages. 
'Con Tact' will be a really fun, entertaining short film, and will hopefully open the door for more fiction about geeks and geeky activities in the future. Geeky women should be seen more, shown off toa wider public, and it is our hope that this film will go some way towards doing that. Please donate if you can, and we can bring this piece to life.

----------------
We will be filming the entire thing on one day, September 15th, at CovCon (Coventry Convention) 2018. CovCon have been incredibly helpful and co-operative in helping us prepare for filming; we absolutely couldn't do this without their help, so we'd like to throw out a great big thank you to them now. 
For more information on CovCon - or to buy tickets, if you'd like to see us there on the day! - go to 
www.coventrycomiccon.uk
+ Read More
Update 2
10 months ago
Share
We have wrapped on filming! Saturday went really well, we had so many people happy to be involved, and it seemed like everyone had a fantastic time at the Convention too! A big thank you to everyone who helped make it all happen!

The next stage of it all is getting it edited together (with the wonderful Elena working on that already), adding music (to be composed by the very talented Vanessa), some finishing touches, and then getting it out to festivals and, of course, you guys!

We still have a few expenses to cover, and sending it out to festivals when it's finished will incur some costs too, so we're going to keep this page open until the end of September in case anyone would still like to contribute. Please do continue to share it, and in the meantime enjoy these photos of our main crew and two leads, one photo from just after our first scene on Friday night, and the other from Saturday in the mania of the Convention. And yes, there is a reason for the cat ears!
+ Read More
Update 1
11 months ago
Share
Hey all! It's all coming together brilliantly, and we now have a new promo video for the campaign!
You can view it here or watch it directly on YouTube at
https://youtu.be/zFdw24paYG0
. Please do share it and continue to share and promote the campaign, your help and support are invaluable!
+ Read More
Read a Previous Update