Crossing Africa- Cape Town to Cairo
$14,305
of $15,000 goal
Raised by
134
people in 44 months

– A voyage covering the length of Africa from South to North entirely by foot and paddle boat. Crossing Africa expedition is meant to document and share with the world everyday lives of Africans in an entirely unique way all while pushing the human body to its physical limits.​
One continent. One country. One step at a time. Mario Rigby is about to begin the second half of a rigorous journey across Africa from Cape Town, South Africa to Malawi where he continued on a Kayak to Tanzania along Lake Malawi (the 3rd largest lake in Africa). The rest of his journey will include, Tanzania, Kenya, Ethiopia, Northern Sudan and Egypt, he will need more help as this leg of the journey is the most difficult. His journey began on Nov. 24, 2015. During this anticipated two-year expedition, Rigby expects to fulfill a burning drive for exploration and adventure as well as to reinforce his belief in humanity, all while testing his body and mind to the absolute limit. Equipped with essential travel gear, Rigby is trusting his preparation and belief in the goodwill of strangers he'll meet along the way to complete this journey. While walking through 9 countries, and a diverse range of environments, including deserts, jungles, and areas of civil unrest, Rigby will document his travels on his website MarioRigby.com in order to let the world follow every of his steps.
Rigby has prepared for this moment for nearly a year before setting foot in Africa. There's the paperwork, like visas and travel documents, hours and hours of research studying maps, survival tactics, travel gear, and so much more. Rigby also consulted with expedition experts such as Julian Fisher who has crossed Africa from east to west. To overcome physical barriers, Rigby trained his body to withstand long endurance walking and terrain trekking, along with survival skill tactics and learning how to use the environment to his advantage. Just recently, he completed a 15 day walk from the CN Tower in Toronto to the top of Mount Royal in Montreal, walking 12-15 hours each day, and covering more than 550 kilometers, all by foot. Along the way, Rigby was overwhelmed by the kindness of strangers who took him into their homes, providing warm meals and a place to sleep.
"The drive for curiosity and exploration is vanishing in today's fast-paced and digital world," said Rigby. "I think unlike past generation, more people are hesitant to venture out and meet strangers. We are all filled with unimaginable potential - perhaps my adventure will inspire others to move away from their comfort zones and unleash theirs."
Crossing Africa has international coverage by CTV National News, The Globe & Mail, Turks & Caicos SUN, CBC radio, other radio hosts and multiple newspaper publications. I invite you to join me on this unique and compelling journey exploring Africa. 
CTV News Coverage

SOCIAL MEDIA
Webwite: www.mariorigby.com
Facebook: www.facebook.com/crossingafrica1
Blog: www.mariorigby.wordpress.com
Instagram: www.instagram.com/Crossingafrica 
 YouTube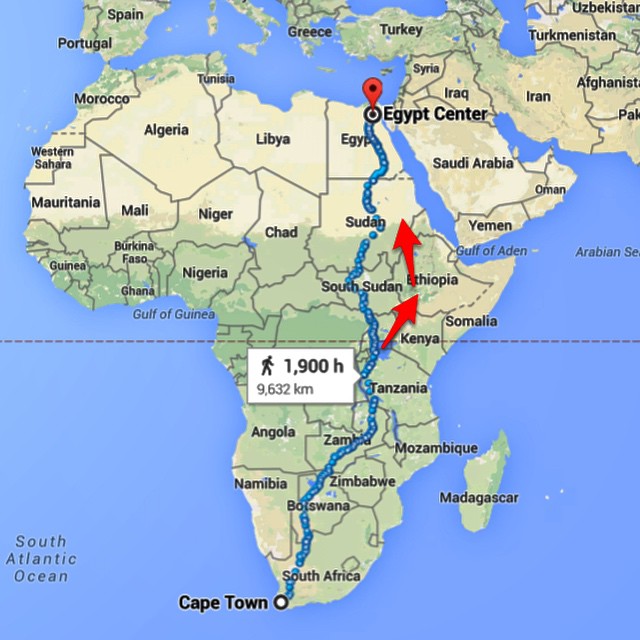 + Read More
Sthembiso Johnson
36 months ago
God bless you man! Please check out my campaign for my sister, would mean a lot :)
+ Read More